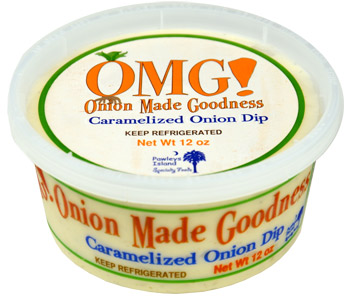 OMG! is a caramelized onion dip that is not your ordinary onion dip.
It is loaded with real onions and big on flavor. You will get the same quality ingredients and authenticity that you've grown to expect from Palmetto Cheese. It can be enjoyed simply with a chip or as a versatile ingredient to incorporate into some of your favorite recipes.
OMG! will make your dishes even creamier and tastier than ever before!
OMG! - Onion Made Goodness is perfect for:
• Dipping your favorite chip or vegetables.
• Topping your hamburgers, steaks or favorite meat.
• Putting a dollop on a baked potato or your vegetables.
• Adding it to recipes and making it your "secret ingredient".


More products from Pawleys Island Specialty Foods
---
Palmetto Cheese - Homestyle Pimento Cheese - www.pimentocheese.com
If you enjoy pimento cheese and you think you've had the best, we invite you to try our version of pimento cheese...we call it Palmetto Cheese. Born in the low country of South Carolina, this pimento cheese has the perfect dipping texture, a smooth taste, and is pleasing to the palate long after the last dip. The word is out...you can now buy authentic, homemade pimento cheese at your local grocery store. Palmetto Cheese has real sharp cheddar cheese, it is real southern, and it is really good.
Pick up a tub and you will see why this pimento cheese is the best on the market today.
Pawleys Island Specialty Foods
1-855-288-8001
P.O. Box 1481
Pawleys Island, SC 29585

Copyright 2022 Pawleys Island Specialty Foods